I have been meaning to write up this post for some time time now, especially since bad eyebrows are a huge pet peeve of mine. Whether they're the wrong shape (yes they can be wrong…terrible wrong!), the wrong size or just badly drawn in, lets face it, bad brows can just ruin your entire look. I thought I would get this post out asap since bold eyebrows seem to be the new trend.
Eyebrows frame your face just as your hair does, so it is important to get it right. The right shape can help balance out your features to give you a more balanced look.
Generally your natural shape is the one for your face, however even this general rule can sometimes be wrong.
So let's start at the beginning, what kind of eyebrows suit my face shape?

Oval Face Shape
The perfect brow shape for your face may be the soft angled shape – this is in fact the most popular stencil shape, and works beautifully with an oval face shape (and most others).
Heart Face Shape
These eyebrows concentrate on balancing the forehead with the rest of the face. A low arched-round brow will create a natural look for your face. A high arch round brow adds (possibly needed) length if you have a shorter heart face shape.
Long Face Shape
A flat brow shape will bring balance to your face so the horizontal line will bring a break in the face, making it seem shorter.
Round Face Shape
A high arched brow will give your face a longer, thinner appearance. vertical lines (higher arches) will make your face seem longer. Avoid rounded eyebrows as they will make your face seem rounder.
Square Face Shape
Angled brows will bring balance to your face. Also consider the curved brow shape, suggested for diamond face shapes. The curves soften stronger features. The stronger and more boney the jawline, they more angled the eyebrows should be.
Diamond Face Shape
The curved brow shape will help you achieve this look. Notice that many beautiful celebrities that have a diamond face shape also have curved brows. Curves soften the face and reduce the widest part of the face which is at the temples.
How thick should my eyebrows be?
This is not as easy as determining the shape.
If you naturally have thin eyebrows, then by all means, reach for the pencil or shadow and have some fun with different looks. If you happen to be among the lucky women who have thick brows then try out new shapes (with the help of a professional please)! Just remember to work with the brows your already have, in texture, colour and shape.
Here are some celeb eyebrow faus pax's to illustrate just how important a good brow is: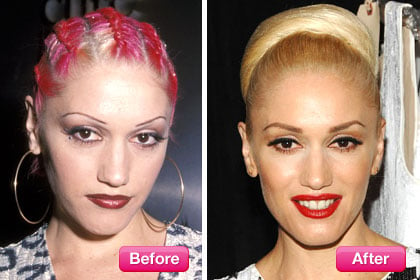 Remember, Bold is NOT always beautiful.
(then again neither is awfully thin)
These are a basic guideline to help you. It is a good idea to play with them (whilst you're at home!) to determine what suits you.
I myself have an oval faced shape bordering on square, although soft angled brows suit me I do tend to prefer a more sharp defined look. Have a play around and see what you find. This is just a guideline and there are no real rules, create a power brow that gives you confidence and go rock it!
How do your eyebrows/face shape size against the chart? Do you have thick or thin eyebrows?