Let's face it, picking a shade of lipstick can be just as difficult a decision as deciding what to wear each morning. There are thousands of shades and brands, so where on earth are you supposed to start and how do you know which to go for? Not to mention the different trends each season which usually tempt you to purchase a shade which you should be nowhere near unless you're on a runway *cough*neon lipstick*cough*.
Here's a simple guide to start you off on what shades suit your complexion:
(I've tried to use pictures of celebs as examples but not very airbrushed pics so that you can see what they would really look like)
Fair skin – Katrina Kaif, Kareena Kapoor & Aishwarya Rai
Dark shades do not really complement your skin, but medium shades will make you look gorgeous. Neutral colours especially like apricot, nudes and corals will look flattering on your skin tone. While, shades of brown and orange will just throw your whole look off…(speaking from experience here…brown is not a good look!)
If you want to get really technical…
Warm undertones: Go for peach and coral colours as they will look absolutely stunning on your lips.
Cool undertones: You should opt for mauve and mocha shades.
Wheatish complexion – Sonam Kapoor, Shipa Shetty & Kangna Ranaut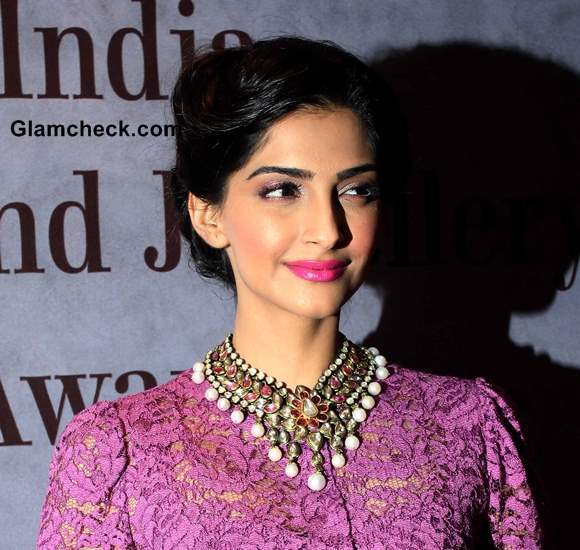 If you have wheatish complexion, then lucky you! You can carry off almost any colour without any real problems. You can easily move your colour palette from brown to peach without alerting the fashion police. However, you should try to avoid nudes because they can sometimes make you look pale or washed out.
Warm undertone: You can opt for bronze, cinnamon and copper colours to give you a warm glowy look.
Cool undertone: Shades of pink will suit you the best. Red will also go very well with your complexion. While picking out a darker shade go for cranberry but not the tomato red.
Dusky complexion – Bipasha Basu, Deepika Padukone & Frieda Pinto
Ladies with darker skin tones, browns and berry shades will look extremely flattering on you. Nudes generally aren't very flattering for you but as with anything, the right shade can sometimes look stunning. I would say, stick to brighter, more pigmented colours for show stopping lips!
Warm undertones: Subtle brown, brownish pinks and berry shades will look great on you.
Cool undertone: Choose from shades like brick red, brownish red and caramel.
So the next time an amazing advert tries to sell you a shade of lipstick, have a think about whether it will suit your complexion and skintone first, you can thank me later 😉